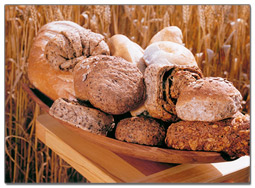 "The first chance you have to "WOW" your guests is with your breadbaskets"
•Representing over 20 of the finest bakeries in the tri-state area.
•Breads, Breakfast Pastries, Desserts, and much more...
•Baked and delivered fresh daily-7 days a week/364 days a year. No deliveries on Christmas Day
•Literally 1000's of items to choose from
•No need to make each bakeries minimum order-Mix and Match
•Customized bread programs for chains
"Service, Service, Service. Those are our first, middle, and last names!"
•A knowledgeable and Friendly staff of Order Entry Specialists
•Call, Fax, E-Mail, File Transfer or we'll Call-you
•Need recommendations, a salesperson is there to help
•Special Orders and Event logistics
"We can bring it all to you."
•Servicing the finest establishments in the Tri-State area (NY, NJ, CT) since 1988.
•Fresh and Frozen deliveries
•Night Operations Managed by an owner!
•On-time delivery